WHAT TO BRING: Bring your dutch oven, ingredients and a picked out recipe from marksblackpot.com
TWO OPTIONS
Builder, you bring or borrow an oven & recipe
OR you watch & take notes.
COSTS: This is a FREE workshop.
equipment list (you can still come if you don't have everything…ask Thomas if you can borrow stuff).
see also blog:
http://libertyfoxdefense.com/dutch-oven-preparedness/
large cookie sheet to put your coals onto (reduces mess and scorching of cement).
table if you have one (thick wood to put HOT dutch ovens onto…so you don't damage the table(s).
cutting board, knives & other prep gear.
paper plates & plastic ware
June 2016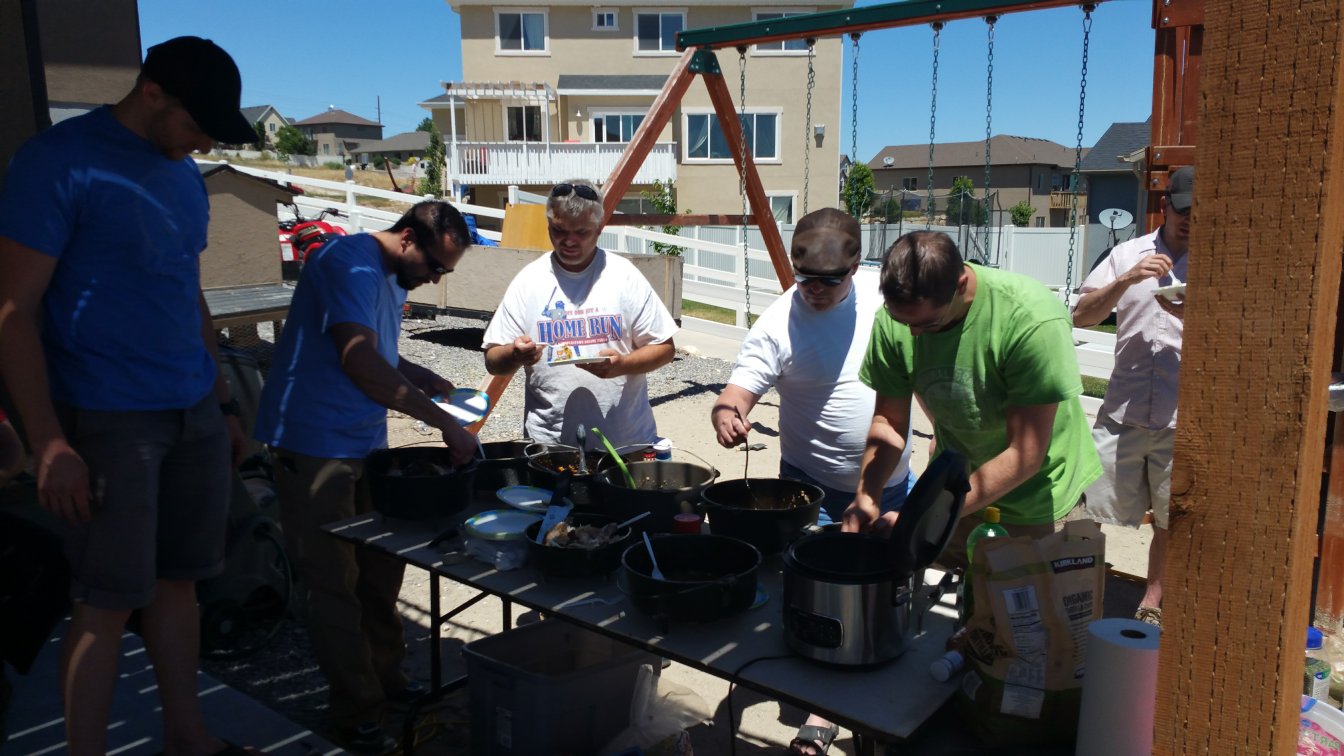 June 2015


June 2014
Dutch Oven gear & skill should be apart of everyone preparedness.
Dutch Ovens can & do last forever. They are multi-use items for preparedness & recreation.
Mark of MarksBlackPot.com came and did a workshop for us. He said it was so successful he would like to do this again. So, the last Saturday of every June, we will be offering this FREE workshop. Subscribe to our newsletter to be notified of upcoming workshops.
The devil is in the details. Mark lectured in the classroom for about an hour, the rest of the time was hands on experience with dutch oven cooking.
Recipes we "followed":
http://www.marksblackpot.com/2013/06/dutch-oven-boneless-buffalo-chicken.html
http://www.marksblackpot.com/2010/01/dutch-oven-bread-in-all-my-years-even.html
http://www.marksblackpot.com/2014/05/dutch-oven-jazzy-bbq-pork-ribs-with.html
http://www.marksblackpot.com/2012/01/dutch-oven-dump-cake-cobbler-mastered.html
Everyone was excited to share their successes (voluntary potlock).  We all learned a lot and had a good time.
RESOURCES:
Listed in priority IMO.
 Lodge (quality that will last a lifetime) 12 – my local walmart has the 12 for $60. and two bags of kingsford coals  for $10.
Charcoal Chimney Starter– my local walmart has one I like for under $10.
 Volcano 3 fuel stove (I got mine at costco for about $100). Make sure you get the one with the propane insert.
 Lodge 2 qt SMALL dutch oven (on my wishlist)– I already have three 6 quart ovens, so a smaller one will be handy for frying, deserts and sauces.