Being able to hook-up and evac with "most critical" gear is….priceless.
REQUIREMENTS: Multi-use trailer for every day use & emergency response. This is NOT a convert to RV and NOT convert to tiny-house. In a few years, I plan to buy a motor home and then I can pull the enclosed trailer with the motor-home.
MULTI-USE:
Store Motor sports
Store evac gear
Help folks move, including self.
storage shed with wheels.
hook-up and evac if needed.
I will be adding to this blog as I build-out my prepper trailer.
Bed-liner Trailer Ramp Project
EQUIPMENT LIST:
USC Defender Pro Epoxy Truck Bed Liner Kit
OR  Rust-Oleum Professional Grade Truck Bed Liner Kit
air compressor
Painters tape
A nice surprise, the trailer came with a nice-thick primer. After doing research, I determined the primer would need to come off.  I spent an hour pressure washing the ramp!
Bug Out Trailer Shelves
Please note with these shelves, d-rings on top and bottom with ratchet or cam-straps. ALSO, for home-made shelves, ENSURE you pre-drill or you will split the wood!!
ply wood is recommended over particle board for strength & weight.  Use of hardware is a good idea, adds strength…w/o the weight of all steel construction.
For my trailer, I want to be able to remove the shelves quickly for motorsports and hauling large items, so I went with rubbermade/lowes shelves.
Please note d-rings with self-tapping screws and bungee cords. These shelves are rated at 350 lbs. I can also use the d-ring for LED lanterns, drying clothes, helmet hooks etc.
Here is my setup:

I also built a work-bench, but its high enough to not get in the way of motorsports…and I'm too tall, so the workbench works. I plan to do a battery bank under the workbench. I used cardboard to fit the 3/8 plywood and predrilled ALL screw holes so as to not split the wood.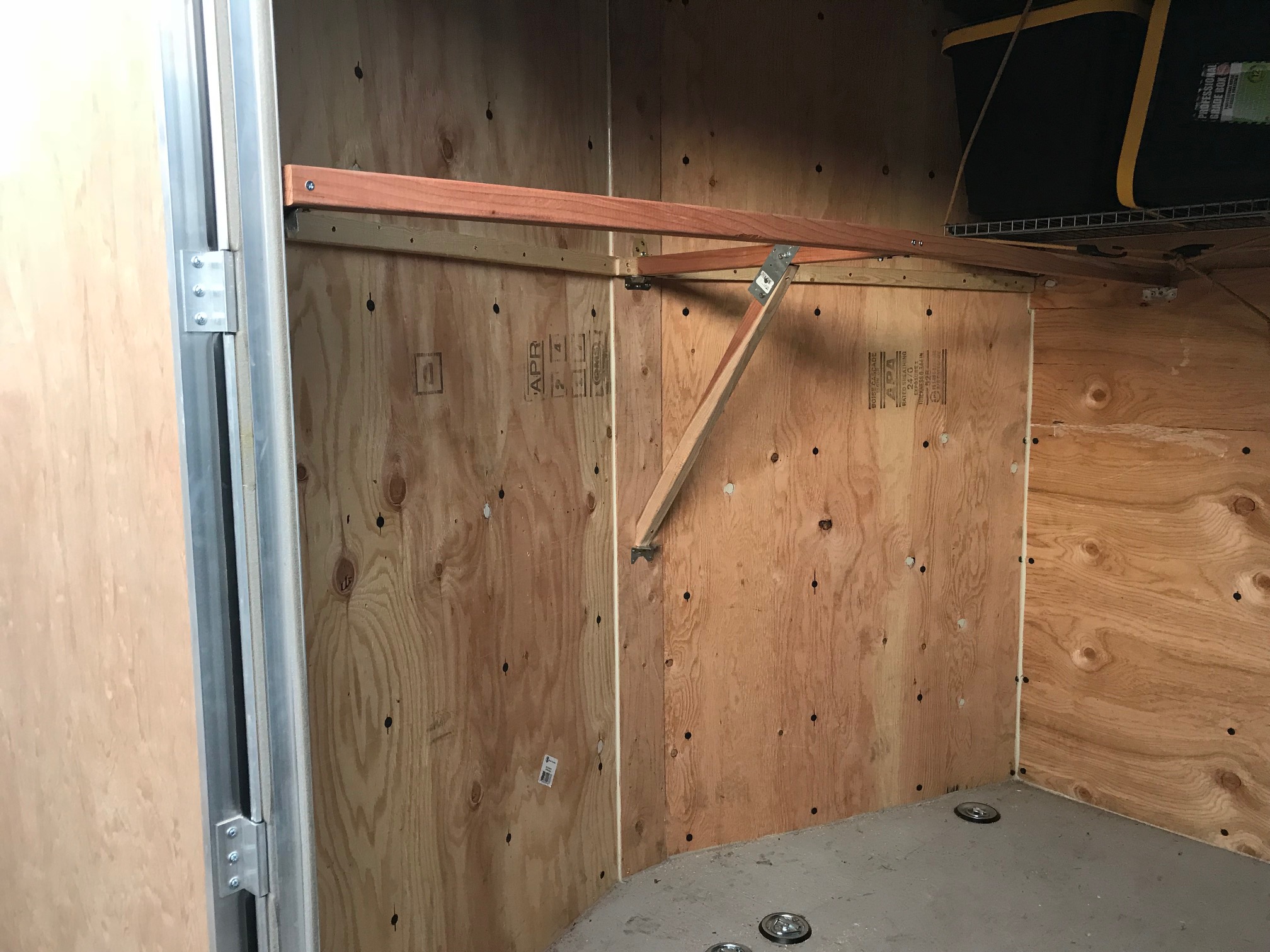 SPARE TIRE
I mounted this on the inside, a bit harder to get to, but on those tight turns, it is worth having inside the frame.
ATV HITCH
I was going to use my UTV, but its too big to properly backup the trailer, with the street facing ramp, I need my smaller ATV to get the trailer out of my side-yard. So, I welded this up.  I anchored into the differential with 5 bolts. I used cardboard to get it fit'd right, then I cut it out and welded it to a 2×2 receiver hitch. 
Preparedness Trailer Evac Ideas and likely future projects
Huge generator? Or store small generator?
SecureIT gun cabinet? I installed it, but then decided I'd rather have a workbench.
Solar & battery bank
Water storage, filters
⅔ of storage is taken up by side-by-side 
Gas cans on outside of trailer.
Food & a way to cook it.
Shelter
Sleeping bag bin
Firestarter kits
Tie-downs
x Shelves
x Hygiene – toilet.
Action pack – of food prep & non-perishable food items.
Weather related.
Volcano 1 burner stove. And propane tank
x Big buddy heater
Ham radio -base station. And built in antenna.
Tools – axe, mini-aircompressor, car-kit.
Winch – come-along or hand winch
hunting/butcher items
TSP Bugout trailer notes
BOT 1 notes
costoco yellow/black tub/totes storage. rugged & water proof, stackable.
My local costco has them for $9 for large or two small for $10 ish
tote of water, food, gear.
cargo trailer – consider logo so as to not raise suspicion/or not to look transient.
bob wells rv living – https://www.youtube.com/results?search_query=bob+wells+cheap+rv+living
If moving, why not buy a cargo trailer and keep it, instead of renting.
tarps for rain protection, privacy etc
BOT 3 notes
heater that vents out.
https://www.toyotomiusa.com/factoryOutletStore/L-73-Toyotomi-Laser-Vented-Heater
laser to fake bad-guys when out of country.
HT Ham radio that can tune into FM radios.
bug out to walmart parking lot, driveway, homedepo, near PD, @ friends house,  blm land
antitheft – remove tires,
Use trailer for adventures and simulate a real response.
impact wrench, test portable air compressor. or battery powered impact wrench.
storing valuables in "pain cans".
compact 12 ga:
Midland Backpack 12 Gauge 18.5" Barrel
racks and roof storage
https://www.amazon.com/s/ref=nb_sb_noss_1?url=search-alias%3Daps&field-keywords=trailer+latter+rack
Pet gear, food, multi-leash.