Gen3 Foxy Tuck for 3″ 1911, with kydex clips
Holster Order Form
$55 for the Foxy Tuck. $7 for shipping (if you are not in Northern Utah).
* Required
Or you can use paypal.
The "Foxy Tuck" is named after "Liberty Fox".
The Foxy Tuck allows you to conceal a full-sized semi-auto COMFORTABLY and SECURELY inside the waist-band. The magic is in the weight distribution of the gun. Comfortable and form-fitting leather molds perfectly to your body and you get the kydex "retention" and re-holstering advantages.
 COST ONLY $55 (order a Holster AND a add-on, get free shipping!)
Things I like about the "Foxy Tuck"
1) Its the right level on my body, I have 10s of thousands of reps presenting my handgun that is at this level on my body. Some of the pancake holsters are too high on the body to take advantage of my many repetitions.
2) Your pants act as a funnel and hold the holster in place, distributing the weight of the gun.
3) I can wear it at 3 oclock or 4 oclock. (I would NEVER put anything at 6 oclock!!!!)
4) I can re-holster easily with the perfectly form-fitted kydex.
5) The leather perfectly form-fits to my body. My body heat heats up the leather and makes it fit perfectly.
6) There is a "magic spot" where it is super comfortable, even a half inch forward or back is not as comfortable as the magic spot around 3:30 oclock.
7) I can customize it to fit any gun. sub-compact to full-sized 5″ guns. I regularly conceal 5″ handgun with my "Foxy Tuck".
8) Combat Grip is achieved perfectly!
9) I can make a holster for a weapon mounted light! For any gun!
10) Price point is about $25-30 CHEAPER than most makers.
What I like about the Foxy Magazine Pouch (FMP):
1) Built for daily carry with comfort & concealability built-in.
2) Easy to put on and off belt without removing your entire belt.
3) Adjustment Retention, ensures you get the most ideal retention setting.
4) Multi-use for range & concealment
5) Built out of ONE thick piece of kydex.
6) Introductory price of only $20. I even beat Amazon's "range mag pouch".
7) Belt loop fits "gun belts" and "dress belts" and keeps the mag pouch on your hip even when drawing with high retention.
8) A cool name & a cool acronym!
9) Custom built for magazine size (large or small magazines).
Keep in mind, there are FEW concealment mag pouches out there. The FMP is purpose built for concealment!  When you see the FMP, you'll see & understand why it excels at concealment & comfort…just like the Foxy Tuck Holster!
Things I like about the "Foxy Flash Pouch"
1) very difficult to lose or forget your flashlight
2) Not too high to rub your ribs
3) quick presentation
4) efficient re-holstering of flashlight
5) VERY light
6) if it gets wet, it doesn't remain damp for days (like leather).
7) Easy on the belt, given the belt loop.
8) Doesn't come off belt on accident, but it can be removed w/o too much effort.
9) Retention adjustable
10) Tactical Black 😉
11) Comfortable
12) Affordable. Only $20 to never lose your flashlight again.
How is the Foxy Tuck made?
The Foxy Tuck is part "Thick Holster leather" and partly kydex (rugged plastic) that is custom molded to your firearm.
Quality Leather finished the "cowboy way". These holsters use a proven sealant made from back-yard bees wax & Neatsfoot oil.
I can make a Foxy Tuck for ANY pistol!
I may need to ask you to have you bring your "very unique" pistol to my shop & hang out for 30 min. or find a friend that has your system (if you are ordering remote)
I've made Foxy Tucks for the following models.
Glock

Glock 17/22
Glock 20
Glock 19/23/36
Glock 26/27
Glock 30
Glock 43 with mag pouch

 Springfield XD/XDM

XD/XDM 3.8, 4.5, 5, 5.25″
xds 9/45
xd mod2

Ruger

Ruger SP101 357
LCR
SR40C

S&W

SW M&P 22, 9mm, 40
SW 10mm
S&W Body Guard
S&W M&P compact
S&W SD9VE

1911 3″, 4.25″ 5″
Walthers
FN FNP/FNX
FN 5.7

Beretta

Nano
M9
Px4 Storm (Even with a frick'n laser)

H&K P9000 40 SW
380 Jiminez
Kahr CM9
Kel Tec pf9
CZ 75
WARRANTY
This is a handshake cowboy warranty. Something happens to the holster, I'll make it right. I'll fix or replace it for life.
A customer called me the other day to tell me he went into the river with his holster and gun. It was 15 minutes before he remembered he was wearing the gun (pretty darn comfortable). Holster was fine. Gun needed cleaning and oil.
Foxy Tuck How-To/Review
The Foxy Tuck is similar design to the crossbreed, but a better holster IMO.
Foxy Mag Pouch

Foxy Flash Pouch (FFP):
Kydex Clip Option (Please add $15)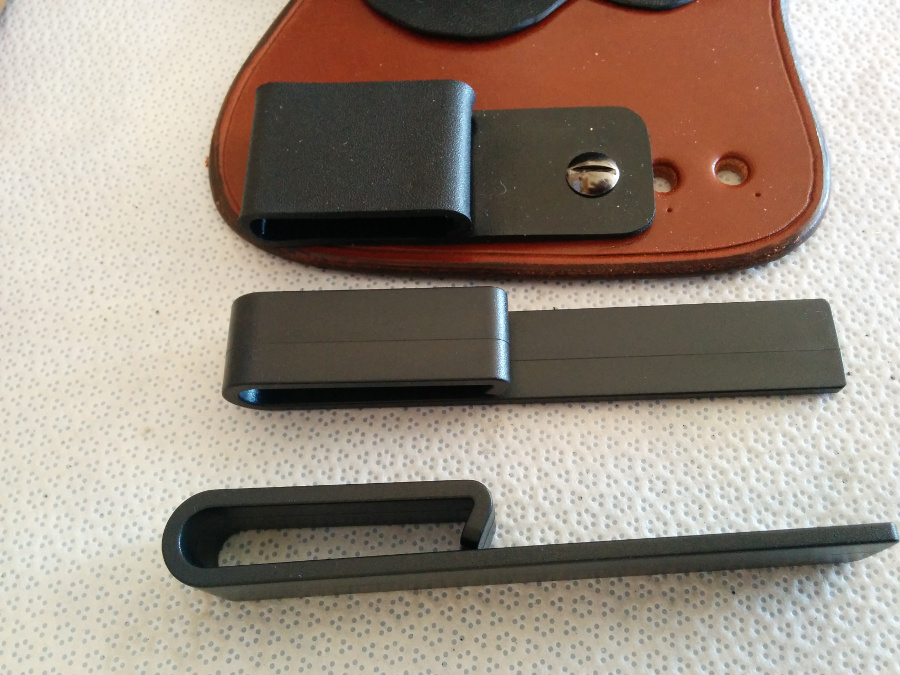 Kydex "Clips" Option (NOT Spare Magazine)
My son is one of the "Foxy Tuck" Makers (father & son shop).
Pictures of some recent  Foxy Tuck holsters.
Here is a "mag & light pouch combo". Next version will have leather slots for the belt and kydex attached to the leather.
I made 6 cowboy action shooting holsters for me and my two kids. A LOT of work(I'm not saying I won't make you a custom cowboy holster rig, but its pricy.