Summary
I've had several people ask for my input on precision rifle(s).
I've owned a few precision rifles. Some I've tuned to ⅓ MOA (so ⅓ of an inch at 100 yards).  Bolt guns, gas-guns, mostly 308.
Philosophy of use
These systems need to be purpose built.  What are they going to be used for?
end of times fantasy?

pdog (prairie dog) heaven?

long range competition?
precision rifle training & learning?
hunting
Personally, I built my "precision rifle systems" for precision rifle training and end of times fantasy. Match grade ammo can be expensive, so do your learning on a 308. Then you can upgrade from there.
When shooting a 308 all day, it helps to have a heavy barrel & heavy system. Not to mention your HB helps stay consistent on follow up shots/groups.
The systems I built/tuned have excelled in precision rifle classes. I've tried to use them for hunting & its not so much fun carrying such a heavy gun into the field.
My First Precision Rifle
Rem 700 5r rifling 308 with the HS precision stock. These are highly recommended by Precision rifle instructors. Many of my buddies have these and this was my first precision rifle.
You may notice, no bi-pods? I'm a bag shooter. I just use my field bag. I own the overpriced harris bipods, but they have been collecting dust for years!
http://www.budsgunshop.com/catalog/product_info.php/products_id/411540287/REM+700+SS+308+24+5R+MILSPEC
This rifle shoots better than I do! When I do my job, its ⅓ MOA.  The barrel doesn't foul much…if ever. Guys without the 5R and without the "precision lapping" are constantly cleaning their barrels in Precision Rifle classes I've taken.  I've seen it. Their groups start opening up and they clean and clean. I shot mine all 4 days w/o cleaning it in several precision rifle classes.
I've looked down the barrels of many rifles with a medical grade "scope". None have looked better than the 5R!
I HIGHLY recommend this cheek riser:
http://www.imageseek.com/karsten/gallery/forsale
I have not tried the "copy cat" version on amazon: http://www.amazon.com/Adjustable-Cheek-Riser-Kydex-Matthews/dp/B00G9PN4G2
More details of my upgrades & tuning:
http://emergencypreparedness.pbworks.com/w/page/18833959/r5
My SECOND Precision Rifle
I MIGHT consider selling my RRA 308, then purchase a Ruger Precision Rifle.
http://www.slickguns.com/search/apachesolr_search/rra%20308%2026%22
RRA 26" HB 308 ar10
I chose this system mostly because of the magazines were quality, plentiful & inexpensive compared to other systems.  Since purchasing my RRA; Magpul came out with a pmag for DPMS compliant ar10s.  Had I known that, I would have selected a DPMS compliant ar10.
I'm currently building a DPMS compliant ar10, but it will be a "run & gun system" of 18" medium barrel.
more details about my ar10
http://emergencypreparedness.pbworks.com/w/page/18833911/ar10
My ar10 mods:
For hunting, I really do love the Ruger American Rifle Predator 308 (compact/threaded):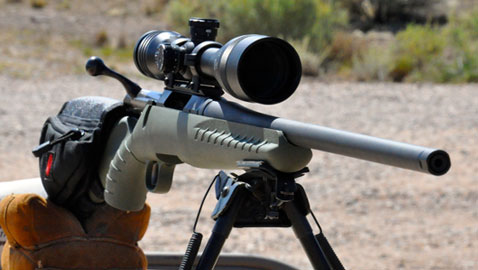 My Recommendation
Q: IF I WAS STARTING FRESH/NEW, what precision rifle system would I select?
A: If I didn't already have several precision rifle systems, I would purchase the Ruger Precision Rifle for several reasons.
Requirements/features of the Ruger Precision Rifle
Medium to heavy barrel.  I like the barrel weight of the RPR – not too heavy & not too light. I think this would be good "profile" for competition, training, or even hunting in a pinch. 

Adjustable cheek, free float, adjustable trigger.
6.5 credmoor. compare the 6.5 to the 308 at 1000 yards, 1300 yards. Less felt recoil, better ballistics than the 308. You can buy 6.5 off the shelf that is excellent ammo.  Compare at this article http://www.scout.com/military/snipers-hide/story/1496625-hello-2015-now-replace-your-308  (see below too)

https://www.google.com/#q=nutnfancy+6.5+creedmoor

Freefloat handgaurd — ar15 compatible 

great out of the box trigger

foldable stock

removable magazine, that uses pmags. about $25 from brownells. 

due to the bolt action & removable mags, I'm not inclined to think one needs an ar10.  for similar accuracy, a "gas gun" is almost twice as much as a bolt gun. 

excellent price point for features

fully adjustable length of pull, especially for tall persons.
fully adjustable cheek.

threaded! I have spent a small fortune threading my precision rifles.
Price Check
http://www.slickguns.com/search/apachesolr_search/ruger%2Bprecision%2Brifle?op=
Reviews/Videos
http://www.thetruthaboutguns.com/2015/08/tyler-kee/gun-review-ruger-precision-rifle-in-6-5-creedmoor/
$7000 AI vs $1200 RPR
compare 1100 to 1100, not 1100 to 1300